Hydrive Admiral OBKIT1 Std Hydraulic Outboard Steering Kit
For Single Outboards up to 300hp - Our Most Popular Kit
$1,439.00
RRP $1,722.90
SAVE $283.90 (16%)
In Stock
In Stock! Usually ships same day!
Hydrive Admiral Hydraulic Complete Outboard Steering Kit OBKIT-1 / OBKIT1 Standard Version
Hydrive OBKIT1 Standard - Our Most Popular Kit - For Single Outboards up to 300HP
Driving a boat with hydraulic steering is so much nicer than boats with the push pull steering systems and it is possible to upgrade your boat's steering to a hydraulic steering kit.
This OBKIT1 (Standard Model) Hydrive Admiral Hydraulic Outboard Steering Kit includes:
Model 401 Helm

Model 211BH cylinder

2 litres ULTRA-15 fluid

15Mtrs 3/8" OD Nylon tubing

Bleeding Kit

All fittings

Installation Manual
Explaining Which Hydraulic Boat Steering Kit To Use:
For smaller outboards, side mount kits (See Comkit Sports Kit model) - where the cylinder attaches to one side of the outboard, are cheaper and much easier to install but are more prone to getting accidently damaged.
However, BULLHORN steering kits (such as this one) are by far the most popular steering system for outboard motors as they are compact but robust, and require a minimum amount of clearance in an engine well.
Before you change the steering system in your boat but you do need to check that there is enough room for the cylinder to fit by the boat's transom, and that it is able to tilt without hitting the boat's motorwell - see the dimensional diagram and example "How to Measure" picture attached.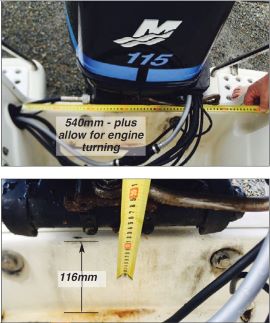 The main differences between differently priced hydraulic steering kits are the quality of the materials used in the cylinder and helm pump.
Hydrive is a very reputable, long established Australian brand that is exported world wide.
Hydrive's two main types of trailerboat bullhorn kits are:
The cheaper Hydrive Commander (COMKIT models) which utilise a state-of-the-art aluminium cylinder design, with unique electrolytic insulation between metals for maximum corrosion resistance.
These superior Hydrive Admiral Series OBKIT models, which offer the strongest and most corrosion resistant steering cylinders on the market. There is no equivalent of these cylinders available from any other manufacturer. Instead of the traditional anodised or coated aluminium cylinder barrels and tiller connections, the Admiral Series cylinders use high quality marine grade brass tubing for the barrels, solid brass end-caps and stainless steel tiller arms and connections. All brass components are further protected by Chrome plating for a high class finish that keeps the steering cylinder free from corrosion and pitting.
Lastly, There are three versions of both the COMKIT1 bullhorn style kits, and three versions of the OBKIT1 bullhorn style kits. The only differences between each three of the three versions, is the connecting offset tiller bracket - the height of the steering kit's bracket which attaches to the the outboard's drag link. Check the chart below to identify which to use.
How to identify which Hydrive boat steering kit to use?
After deciding between a side mount or bull horn style kit check this compatibility guide to match a kit to your outboard.
Don't worry if you are not sure exactly which steering kit to use Boat Gear Australia can identify the correct one for you - just call or email us.
(You will need to know your outboard's brand, horsepower, year and whether it is a 2 stroke or a 4 stroke, and ideally the band and model of your boat).
(990134)
This Hydrive Admiral Hydraulic Outboard Steering Kit OBKIT1 includes:
Model 401 Helm

Model 211BH cylinder

2 litres ULTRA-15 fluid

15Mtrs 3/8" OD Nylon tubing

Bleeding Kit

All fittings

​Installation Manual
We can ship this product almost anywhere in Australia! Usually ships the same day.
| | |
| --- | --- |
| SKU | 990134 |
| Model # | OBKIT-1 |
| Brand | Hydrive |
| Shipping Weight | 12.0000kg |
| Shipping Width | 0.200m |
| Shipping Height | 0.300m |
| Shipping Length | 0.680m |
| Unit Of Measure | Kit |
| Type | Genuine |
A 2 Year Warranty is offered from Hydrive (Hydrive Engineering P/L is a long standing reputable Australian company).